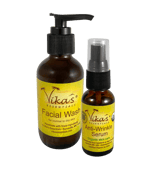 Vika's Essentials are inspired by ancient science and aromatherapy. Every batch is blessed with healing energy. Restore beauty and hydration with natural skincare from plant-based oils and natural clays.
Why Vika's?
Our product formulations are inspired by the wisdom of traditional healers and celebrate the heritage of natural medicine from all over the world.
At Vika's we use a holistic approach offering safe and effective skincare that has:
No parabens
No synthetic fragrances
No synthetic colors
No T.E.A., D.E.A., Glycols, Silicons or PEGs
No sulfates
No mineral oil
No alcohol or SLS in our facial washes, floral toners or serums


What makes us different?
Our ingredients are all-natural and non-toxic and are handmade in our organic lab in the USA. Our products are made from cold-pressed nut and seed organic oils combined with high-quality therapeutic grade pure essential oils. All of our formulas are very concentrated. It takes only tiny amounts to reach desirable results. We use 5 to 11 active ingredients to pack into a single formula.
Rejuvenate and nourish!
Rejuvenate and nourish your skin with Vika's Certified Organic Facial Serum - a unique to the world organic blend, enhancing your youth and beauty!
Our Serums are USDA Certified Organic and an EWG VERIFIED™ product (Environmental Working Group).
Begin nourishing your skin with the best ingredients today!